We've usually had easy access to Intel's Core i3 and Pentium ranges of CPUs but the chip giant is being surprisingly tight lipped about these latest additions to its line-up of fourth-generation Haswell-based CPUs.
They've also hit etailers shelves some time after the launch of the upper echelon CPUs such as the Core i5-4670K and Core i7-4770K that were released much earlier this year.
One possible reason for this is that even second-generation Sandy Bridge-based Core-i3 CPUs are still readily available and for roughly the same price. The same is true for super-cheap LGA1155 motherboards to go with them.
A surplus that might need to be shifted or not, the fact is that LGA1150 motherboards are just as cheap, retailing for less than £40 if you look at H81 and B85 chipset-based models. Given the better socket life expectancy of LGA1150 plus a newer generation CPU, if you're in the market for a cheap Intel system then opting for anything other than LGA1150 is probably unwise.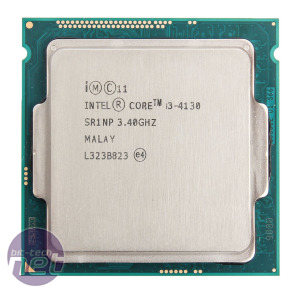 Click to enlarge
However, before we unequivocally recommend the CPU we're looking at here, we best take a closer look at it. The Core i3-4130 costs around £90 – pretty much the same as its Sandy Bridge and Ivy Bridge cousins still floating around, such as the Core i3-3220.